The small hamlet of Cygnet lies between the beautiful D'Entrecasteaux Channel on one side and the majestic Huon River on the other. The town is the centre of the fruit growing Huon Valley where apple, cherry and berry orchards line the hills.
Known for its quirky creativity and home to potters, painters, writers, photographers plus the Cygnet Folk Festival (January every year) and the bi-annual French Festival, Le Weekend (incorporating "Le Tour de Cygnet" bike race). Cygnet includes several craft shops, art studios and galleries and a place not to miss is the Living History Museum for wonderful old photos and local history. 
Weekends are particularly busy and vibrant, especially when the bi-weekly farmer's market is on (1st & 3rd Sunday of each month). You will also find great coffee and really delicious & original food at places like the famous Red Velvet Lounge, The Lotus Eaters and the Cygnet Woodfired Bakehouse.
Fat Pig Farm is home to Gourmet Farmer Matthew Evans and Sadie Chrestman. Together, they run their 70 acre family farm in the beautiful Huon Valley, south of Hobart, where they live and nurture food from the soil to turn into great meals for the farmhouse table. Along with their namesake Wessex Saddleback pigs, the farm is home to chooks, a beef herd, a pair of full cream cows, a market garden and heritage apple orchard.
Together they host Friday Feasts, taking what's great from the garden and turning it into long, lazy meals shared around our extended table. Our cookery school is a hands-on workshop experience, over one or two days, where you'll get to visit the pigs, raid the garden and then bring the bounty back to the kitchen to cook it up before sharing the produce at one of their signature feasts.
Located in Cygnet, Tasmania is "Lovett Gallery Cygnet" operated by the Huon Art Exhibitions Group.
The Gallery is located at the rear of the Town Hall, Mary St, Cygnet and open every weekend, Fridays during daylight savings and most public holidays from 1000 to 1600.
HAEG now has 120 members and coordinates a major annual exhibition - "The Huon Art Awards" as well as mini exhibitions for member artists. Works at Lovett Gallery Cygnet are constantly changing and include paintings in all genres, photography, sculpture, ceramics and jewellery. Some members also produce greeting cards. Works can be viewed anytime on the website.
Spectacular views are a feature at Hartzview looking across vineyard slopes, and Port Cygnet to the Hartz mountains. In the chapel-like tasting room you can sample from estate grown hand picked Pinot Noir, Sauvignon Blanc and Chardonnays. Unique preservative free fruit ports and liqueurs are made from 100% high quality Tasmanian fruit. Ranging from the dryer Blackcurrant Port (similar in style to a Tawny Port), Blackberry, Cherry, Blueberry, Raspberry, Tasmanian cassis and Spiced Apple Liqueur Mead. All day lunches are served in the glassed in cafe, featuring vineyard and cheese platters, locally made gourmet pies and fresh salads. Or just relax and enjoy a Devonshire tea and the photo opportunities, or take a stroll through the self-guided Heritage listed pickers huts and be refreshed with the clean air and listen to the stillness.
A five minute drive from Huonville is the village of Ranelagh and the Huon Showgrounds. For those interested in food and local produce, each March, the Taste of the Huon takes place at the Showgrounds and showcases all the spectacular seasonal produce the Huon Valley has to offer.
Nearby you'll find Home Hill Winery which serves its own internationally award-winning wines in its restaurant - an architect-designed mud brick building among the vines;  It's worth checking opening times as Home Hill is a popular wedding venue at weekends.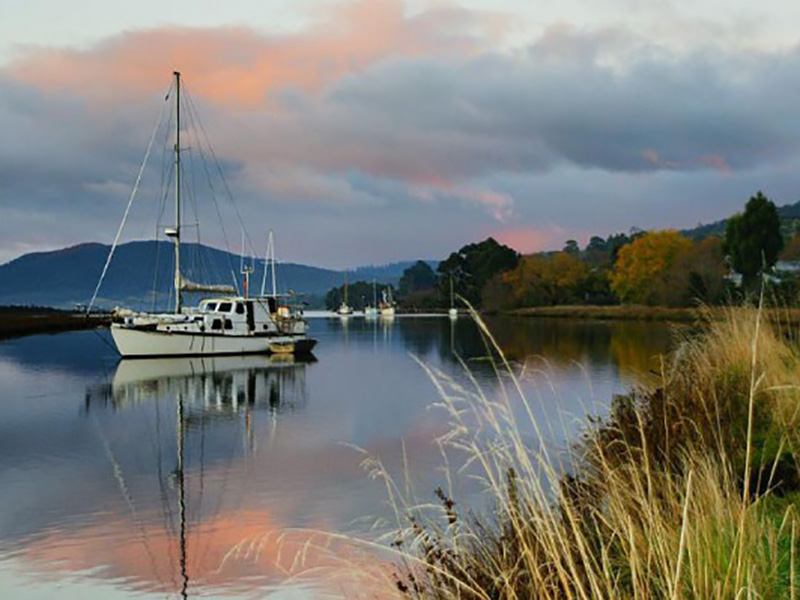 A short drive of approximately eight minutes, will bring you to this quaint river-side village strung out along the banks of the Huon.
Maybe you'll stop at Frank's Cider Bar & Cellar Door before you drive on a little further to where you'll find the Wooden Boat Centre.
There, tied up to a collection of wharves, are boats you're unlikely to find in such numbers anywhere else in the country. Often small, but beautifully crafted, they display the love and skill that only time and experience brings; experience passed on at the Wooden Boat Centre to wooden boat disciples who come from all over the world. A special place.
A monthly market, too, takes place in Franklin's restored Art Deco era town hall. Excellent and fun to visit, as are the various cafes, restaurants, pubs and little galleries you'll find here.
Pagan Cider is a boutique Tasmanian cider producer, located in the picturesque Huon Valley, about 4 km north of Cygnet.
Enjoy free tastings of their unique range of elegant, sparkling, modern-style ciders, some of which are being made nowhere else on earth.
As well as much-loved apple, pear and cherry blends, they are known for exquisite and exclusive limited-release seasonal blends, such as Quince, Blueberry, Strawberry and Raspberry - all made without any added sugar, using only fresh fruit lovingly grown by local farmers, crafted into special tipples of rare sparkle, clarity and balance.
The Apple Shed is a Cider House, Distillery & Museum, showcasing the best local products Tasmania and the valley has to offer.
In the rustic surrounds of an original apple shed built in 1942, learn about the Huon regions fascinating apple heritage told through the eyes of Willie Smith, the founder of William Smith and Sons Orchards. Wander around the museum, take a walk around the heritage apple trees, or enjoy trying a few handcrafted ciders made out of apples from the orchard 200m down the road. 
Bruny Island has some of Tasmania's most beautifully preserved natural environments with abundant wildlife and stunning cliff top views. The island is about 50 km long but appears to be two islands with North and South Bruny joined by a narrow strip of land called The Neck. This isthmus is an important habitat for native wildlife. A highlight is South Bruny National Park, with towering cliffs overlooking long sandy beaches, coastal heathland, and underwater gardens of kelp seaweed with some amazing bushwalks to take it all in. The island is also a haven for many rare and endangered plants and animals.
Huon River Jet Boats offers high speed boat tours on the Huon River, Southern Tasmania. Huon River Jet Boats is based in Huonville, a 35-minute drive south-west of Hobart (48 km) in the Huon Valley.
Huon River Jet Boats offers an exhilarating ride along 12 km of the Huon River. This 35-minute experience combines beautiful scenery with the thrill of white water. You'll speed through rapids and feel the excitement of 360 degree spins and breathtaking turns. You'll also experience the contrast of drifting along the tranquil waters of the river, seeing perfect reflections of riverside forests. Your skilled skipper and guide will reveal the history of the Huon River and Valley and, back on shore, you can sit down to a tasty meal made with local produce in the Boatshed Café, overlooking the river.
Farmhouse Kitchen Tasmania
At the Farmhouse Kitchen in Tasmania, food lovers will learn to create authentic, home-style cuisine. Locally grown produce will be crafted into a variety of age old and innovative recipes. Giuliana's Farmhouse Kitchen will take you on a culinary journey of the region of Puglia in southern Italy.
The Farmhouse Kitchen is nestled in the hills of Wattle Grove, just above Cygnet and is a leisurely, scenic drive from Hobart through the beautiful Huon Valley. Wattle Grove hosts a perfect gaggle of hobby farms, berry farms and orchards. 
These classes will be limited to six in order to keep them personal and engaging. We aim to impart the most famous recipes in the same manner in which they have been taught in Italy for generations; by sharing stories, flavours, methods and laughter around a kitchen table.
The Art Gallery resides in one of the first general stores in Cygnet, circa. 1905. A vast open space with high ceilings gives room for large canvases and drawings, artworks and glass jewellery.
Meet Richard Stanley, resident artist and talk about his work. Listen to ambient music as you peruse his paintings and limited edition prints. The Gallery is located in a beautiful rural setting with mountain and river views.
Richard offers a unique experience to art and craft lovers. All work is Tasmanian produced with the majority being made on the premises by Richard himself. Works include original oil and pastel paintings, limited edition framed and unframed prints, cards and bookmarks.
Living History Museum of Aboriginal Culture
The Living History Museum of Aboriginal Culture Heritage and Gardens of the South East Nation is run by the South East Tasmanian Aboriginal Corporation
The former Methodist church at Nicholls Rivulet (formerly Irish Town) has a direct association with the Tasmanian Aboriginal Race through its very strong association and principal benefactor, Fanny Cochrane Smith (1834-1905).
Fanny was recognized by the Tasmanian governments as 'the last survivor' of the Tasmanian Aboriginal race and was granted 305 acres at Nicholls Rivulet in which she gave half an acre for the purpose of building a church. The building was completed and the first services, morning and afternoon, were held on Sunday 5th may 1901. It is not known when the church ceased to be used for worship. It is now managed by SETAC and is undergoing some works and maintenance to restore the Museum and Bush Tucker Gardens they have established before reopening to the public.
Masaaki Sushi at Geeveston
Arve Forest Drive
Tahune Airwalk
Hartz Mountain
Dover
Hastings caves and thermal springs
Ida bay railway
Southport
Cockle creek
Southwest wilderness
Peppermint Bay
Two Bud Spur Vineyard, Gardners Bay
Woodbridge Hill Hand Weaving Studio
Grandvewe Sheep Cheesery, Peppermint Bay
Check our rates and availability